With the 2014 World Cup taking place in Brazil this summer, it is interesting to consider the engineering challenges associated with hosting the World Cup. In an article from The American Society of Mechanical Engineers (ASME), the 2022 World Cup scheduled to take place in Qatar is profiled along with the challenge of 45 degrees Celsius (113° F) temperatures.
To combat these concerns, the global engineering firm ARUP designed a 500-seat "mini stadium," which brought temperatures within the stadium and on the pitch to a manageable 23° C while outside temperatures soared into the 40s. ARUP used existing technology and an innovative geometric design in the "Showcase Stadium" to prove that cooling could be accomplished. Using solar photovoltaic technology to generate electricity for cooling equipment, chilled air moves in layers through the stadium to reduce temperatures. Click here to read the article
Τ
An associate professor of mechanical and aerospace engineering, with the help of undergraduate student Steven E. Zeltmann, NY R 2017, recently analyzed the science and innovation of the newly designed World Cup 2014 Brazuca Ball. The professor, Nikhil Gupta, Ph.D., and Zeltmann, are at NYU Polytechnic School of Engineering.
Read the article for all the details about the soccer ball including its ability to regain its shape and resistance to moisture. And watch the video:

Β
The Oklahoma City Energy Football Club (Energy FC) announced the signing of Adnan Gabeljic, MO E 2014, in May of this year. Gabeljic was the 38th overall selection by Sporting Kansas City in the 2014 MLS SuperDraft. "It is an honor to have this opportunity to begin my professional career with Energy FC," Gabeljic said. Read the press release
At about the same time he joined Energy FC, Gabeljic graduated with a degree in civil engineering from Saint Louis University. He posted the image below, with a Tau Beta Pi stole, to his Twitter account.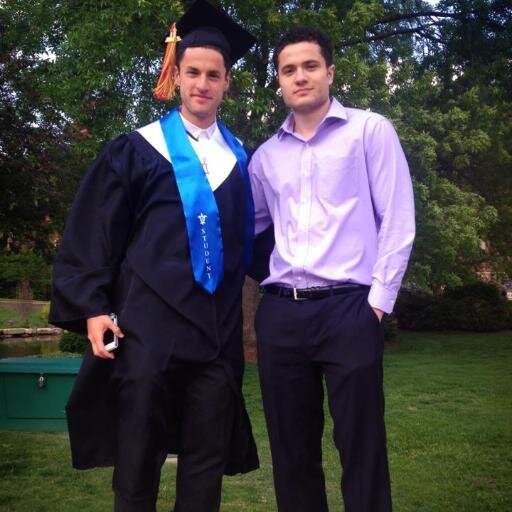 Π