Katy E. Tierney, NY S 2016, is one of two graduating seniors from Alfred University to receive a 2016 State University of New York (SUNY) Chancellor's Award for Student Excellence. The Chancellor's award recognizes students who have best demonstrated the integration of academic excellence with accomplishments in other areas.
Tierney is a ceramic engineering major and spends "the majority of her time in the ceramic powder processing labs." She hopes to mix her experience in the ceramics art world with her passion for ceramic engineering. Click here to read the press release.
Τ
A U.S. Highway 101 bridge over the south fork of the Eel River in Mendocino County, CA, was recently named for a bridge engineer who oversaw it. Lowell C. Allen, CA A '51, worked for 39 years for Caltrans as a bridge construction engineer. Allen passed away in December 2014, but his wife and several family members were on hand for the dedication.
According to the news story, "Allen was involved in, if not directly responsible for, the construction of most bridges on the State Highway System in Del Norte, Humboldt, Lake, and Mendocino counties from the 1950s until his retirement in 1991." Three of his four children also became civil engineers.
Β
The University of Detroit Mercy College of Engineering & Science recently tweeted an image of the Bent monument on campus in recognition and celebration of the 75th anniversary of the Michigan Delta Chapter of Tau Beta Pi on campus. The MI Delta Chapter was installed on January 20, 1941, in Detroit, Michigan. See the image below and visit the College's website for more information on the school.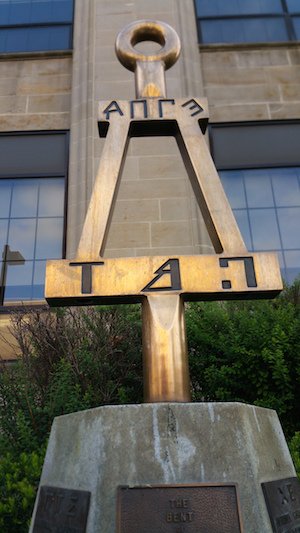 Π