The Las Cruces Sun-News (NM) profiled New Mexico State University's College of Engineering Lakshmi N. Reddi, Ph.D. (KS G '82), who became dean in the summer of 2016. The article focuses on his two passions: language and engineering. According to the article, "he has more than 25 years of academic experience as an educator and researcher in interdisciplinary themes related to civil and environmental engineering. His career of academic publishing has been prolific — authoring, co-authoring and editing eight books and writing more than 120 technical articles on interdisciplinary themes in engineering. But there's more to what is reflected on his vita: his experience of writing poetry spans even longer, dating back to his childhood."
Previously, Dr. Reddi was dean of the graduate school and professor in the department of civil and environmental engineering at Florida International University. He joined Tau Beta Pi as an eminent engineer in 2003 while serving as head of the department of civil engineering at Kansas State University. "A poet creates an expression of beauty with words, and an engineer does the same, creating a physical object, like a bridge or a building," said Dr. Reddi.
Τ
This week, Lt. Col. Andrew J. Hoisington, CO Z '01, was initiated into Tau Beta Pi as an eminent engineer by the Colorado Zeta Chapter, at the United States Air Force Academy (USAFA). Lt. Col. Hoisington is an instructor of environmental engineering at the USAFA. He earned his bachelor's degree in environmental engineering from the University of Michigan.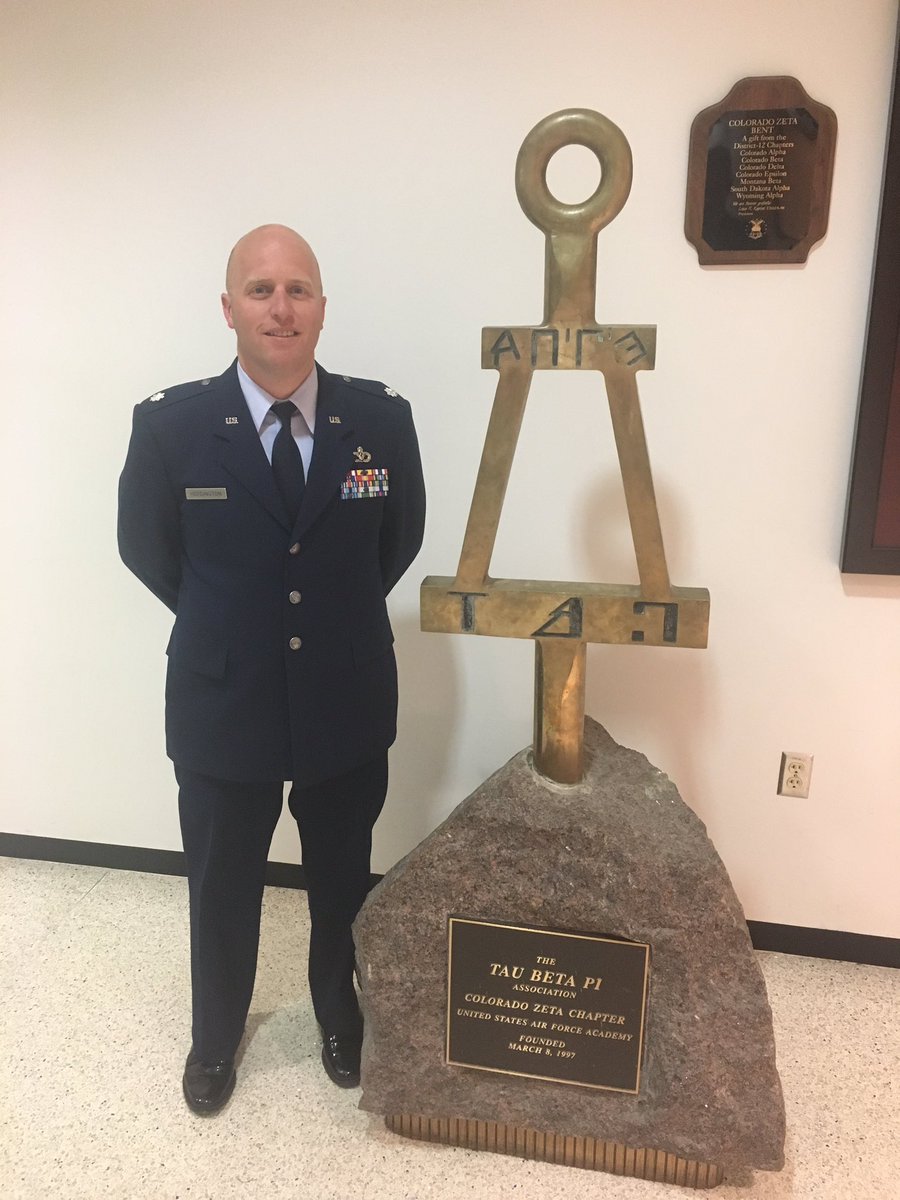 The picture above is of Lt. Col. Hoisington with the Bent monument on the USAFA campus. The image was tweeted by the Military & Veteran Microbiome Consortium for Research & Education.
Β
The University of Tennessee Board of Trustees has approved the naming of the College of Engineering honors program as the Joseph C. and Judith E. Cook Grand Challenge Honors Program in Engineering. Joseph C. Cook, TN A 1965, graduated from UT with a degree in industrial engineering and he and his wife have made a significant commitment to the honors program in the college.
"By instilling practical engineering in our students, we hope to give them a portion of the means and the drive to match their dreams," Cook said. The 14 Grand Challenges of Engineering are global issues identified by the National Academy of Engineering. Among them are nuclear security, urban infrastructure, clean water and energy, and health and medicine. Click here to read more about the curricular and extracurricular requirements for students to graduate with honors in the College of Engineering.
Π